Gilmore Tower is located at No. 2 Gilmore Avenue corner N. Domingo, Quezon City
According to the developers of Gilmore Tower, "location is everything". They use this tag line when marketing this particular development into the market. And rightfully so, because that phrase is a factual truth. In the world of real estate development, location is number one. You can always build the facilities and amenities you want to provide a comfortable and luxurious living experience, but one thing that you cannot control is the location.
Therefore, this alone is one of the reasons why Gilmore Tower is considered as one of the best condominium developments in Metro Manila. It is ideally located in the middle of Quezon City in Metro Manila. Therefore, it serves as the ideal access point to key landmarks, businesses and other points of interest. You can choose to walk, drive or take the public transport in order to get to these destinations.
While there are retail shops located within Gilmore Tower, you have quite a few options available if you decide to go out and explore other shopping destinations. Robinson's Magnolia is less than a kilometer away from the condominium. Other nearby malls and shopping centers include Agora Mall, New Farmers Plaza, SM City Sta. Mesa, Isetann Wholesale Store and Gate Way Mall.
Gilmore Tower is also highly accessible to commuters since there are plenty of options for public transportation in the area. In fact, the LRT Gilmore Station is within a few meters away. Plus, the MRT Araneta Center-Cubao Station is not too far ahead either. You can therefore get more accessibility to get to other parts of Metro Manila, not just in the nearby establishments and points of Interest in this part of Quezon City.
If you want to indulge in your favorite cuisines, you can explore a few restaurant options near N. Domingo, Quezon City, where Gilmore Tower is. Here are a few of the restaurants that you need to add to your must-try list: Megawatt, JT's Manukan Grille, Bugis, Lemuria Gourmet Restaurant, and Pepper Lunch Express. All of these dining establishments are located within a few minutes away from N. Domingo Street in Quezon City for your convenience.
Robinson's Magnolia
Robinson's Manila
Greenhills Shopping Center
Araneta Center
SM City Centerpoint
Trinoma
Robinson's Galleria
SM Megamall
Shangri-La Plaza
SM North-EDSA
St. Paul University Quezon City
Xavier School
Trinity University of Asia
St. Joseph's College
Jubilee Christian Academy
St. Mary's College
Central Colleges of the Philippines
De La Salle University Greenhills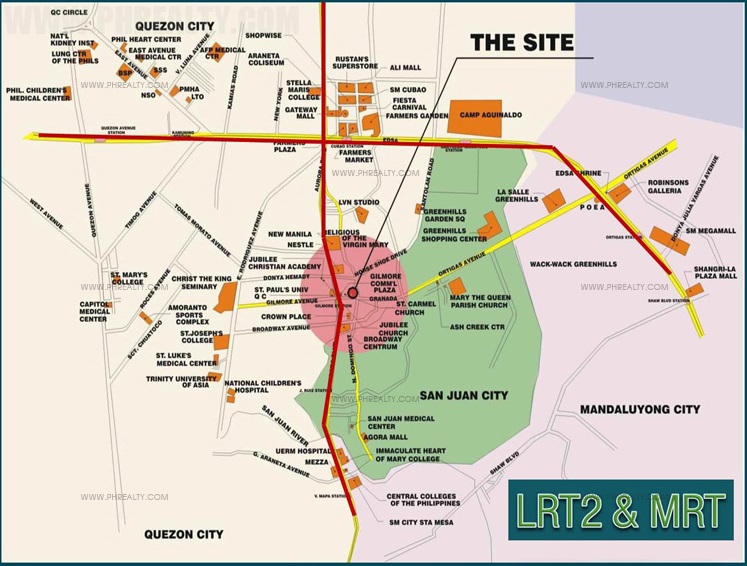 When it comes to nearby schools, there are also plenty of options for the residents of Gilmore Tower. This makes it ideal for families planning to move into Gilmore Tower since they have a few selections of reputable schools within the area. Among these options are La Salle Greenhils, Immaculate Heart of Mary College, Jubilee Christian Academy and Xavier School. These are some of the best school systems in the country and you can easily access them within Quezon City.
If you want to explore other recreational facilities or check out other points of interest in the area, you will have plenty to choose from. The Quezon Memorial Circle is on top of the list. The Santo Domingo Church and Convent is another popular attraction. Other notable attractions and landmarks nearby include the Manila Observatory, La Mesa Watershed, Our Lady of Mt. Carmel Shrine, PAGASA Astronomical Observatory, and the Andres Bonifacio Monument.